The new O.E technology for the Valeo transmission systems is a warranty for exceptional feedback time and comfortable use.
Valeo launches the dual dry clutch on the spare parts market which offers a unique driving experience and a reduction of CO2 emissions. This solution allows for a faster gear change, smooth and strong acceleration, with minimum noise and vibrations.
A new product in Valeo's product range
In 2020, Valeo introduces the dual dry clutch on the spare parts market. This product is an extension of Valeo's competence in the field of transmission systems, and as a result the aftermarket specialist becomes a true "one stop shop" supplier. The solution was implemented in KIA and Hyundai vehicles, allowing the company to hold a strategic position in a fast growing market.
Valeo designs perfection
The Valeo dual dry clutch distinguishes through its exceptional performance, integrated in the O.E. technology. A great amount of focus was made on some of the product's key characteristics. The smooth and continuous acceleration, combined with the minimum torque loss improves the driving experience.
The actuators of the 7 gear dual dry clutch allow a 15% faster gear change, compared to the previous generation of dual dry clutches in Hyundai and KIA models equipped with 6 speed gearboxes. All these characteristics determine the Valeo dual dry clutch to be probably the best aftermarket offer, combining the comfort of an automated transmission with the efficiency of a manual transmission.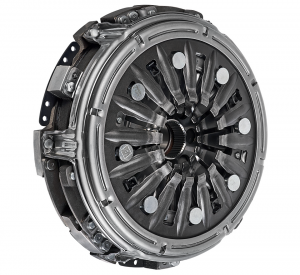 Valeo contributes to the reduction of CO2 emissions
The reduction of CO2 emissions is one of Valeo's main priorities and has become the foundation in the design process of the dual dry clutch. It was designed for continuous transmission of the engine power with a minimum torque loss during gear shift. Also, the gear decoupling is made without electric consumption, with the help of the electro mechanic activated actuators. All these innovations lead to the reduction of fuel consumption and CO2 emissions.
Valeo dual dry clutch and more
The dual dry clutch calibrates manually through a simple procedure designed to increase workshop efficiency. Among other things, the offer includes a complete technical assistance program, including assembly instructions, live trainings, webinars, interactive presentations and videos on the Valeo Tech @ssist technical online platform.
The launch of the dual dry clutch is an important step in the IAM dedicated Valeo strategy. It is a follow-up of the development of the double mass clutches (DMF), the hydraulic pressure bearings (CSC) and of the transmission hydraulic actuators. The Valeo dual dry clutches range includes clutch sets, double mass fly-wheels, actuators, mounting instruments and a complete technical support package.
More info here: valeoservice.com.
Download the PDF file with the new products list.